The Art of Simplicity
Given the recent popularity of Design Philosophies from the Masters, I wanted to focus on another important element for both design and content to inspire you: simplicity.
Here are 3 rules to keep in mind before you start simplifying your presentation:
1. Look for redundancies. It is important to repeat your main points; however, don't overdo it. Follow these simple steps: Introduce your idea, explain it and then summarize it. If you're repeating an idea more than three times, you're probably going overboard.
2. Let it sit. After you have completed your presentation, walk away from it. Put some time and space in between you and your presentation so that you can review it later with fresh eyes. Your renewed perspective will help you notice unnecessary elements.
3. Think like an audience member. Remove unnecessary jargon that will make your presentation wordy. Speak in the active verb tense rather than a passive one whenever possible. Be conversational, fun and lighthearted, if appropriate. The goal is to make your presentation enjoyable for the audience, so don't overload them with anything that doesn't serve an important function.
To serve as inspiration, check out 10 quotes to ponder as you think about how you want to accomplish simplicity with your next presentation.
Quote 1
Presentation Lesson: Simple ideas solve complex problems. Think of the wheel, or fire. These two ideas are extremely simple, however, they make an infinite number of complex things possible. There is no need to make your message complex.
Quote 2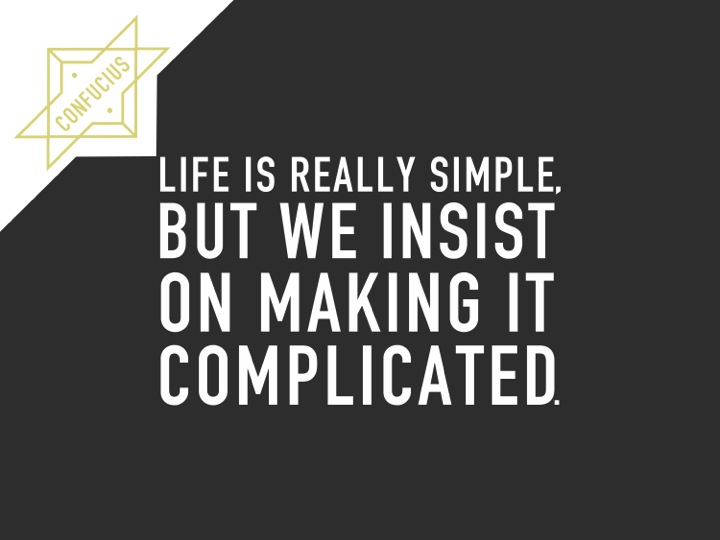 Presentation Lesson: It's true. Life is, or should be, simple. You wake, you sleep. You eat, you drink. You laugh, you love. We as people have created numerous side paths, or distractions, for ourselves. Presentation design is much like life in that when you eliminate the distractions, you can really get down to what's important.
Quote 3
Presentation Lesson: Kids might not understand corporate jargon or peripheral ideas, but if you really, truly understand an idea, you should be able to cut through the fluff and distill it down to the basics.
Quote 4
Presentation Lesson: It may be hard to leave out studies, charts, graphs or spreadsheets, but if you can focus all of those down to the main idea they're expressing, you will be communicating your idea much more clearly.
Quote 5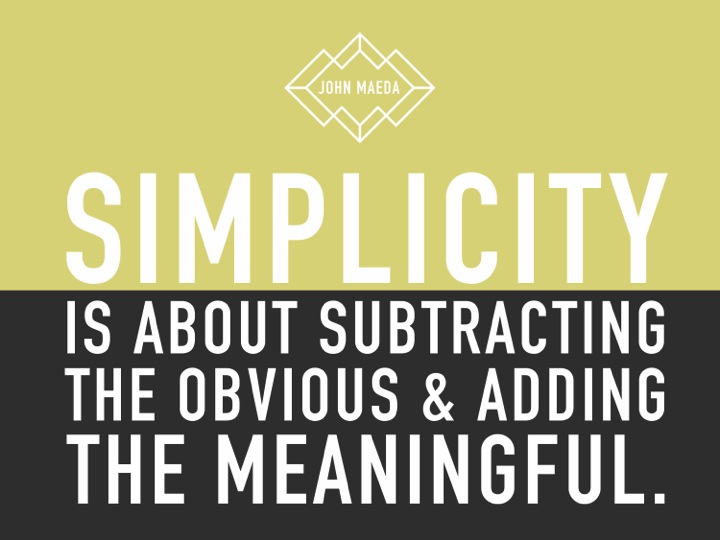 Presentation Lesson: Don't tell your audience what they already know; tell them what you feel they NEED to know.
Quote 6
Presentation Lesson: Don't confuse your audience with an over abundance of complex information. Communicate to them in a way that helps them understand the truth you're hoping to impart in them.
Quote 7
Presentation Lesson: This is without a doubt true when presenting. The simpler your presentation, the greater the impact.
Quote 8
Presentation Lesson: Simplicity is not a lack of information, but a focus on only the meaningful information.
Quote 9
Presentation Lesson: A strong story and idea will move your audience to care about your subject as much as you do.
Quote 10
Presentation Lesson: Think of simplicity as spring cleaning. Get rid of what isn't needed so you can make room for what's important.
If you want to see these quotes and my team's "Simplicity" deck in it's entirety, you can click through the slides below.
Simplicity is a beautiful thing. Be sure to aim for it with your next presentation.
READ MORE: Design Philosophies From the Masters
Author Bio
Scott Schwertly is the author of How to Be a Presentation God and CEO of Ethos3, a Nashville, TN-based presentation boutique providing professional presentation design and training for national and international clients ranging from Fortune 500 companies to branded individuals like Guy Kawasaki. If Scott is not working with his team building presentations, you will find him in the pool, on the bike, or on a long run. Scott lives in Nashville, TN with his wife and three dogs. He has a B.A. and M.B.A. from Harding University. Find Scott on Google+.