4 Tips for Choosing the Right Stock Photography
As presentations continue to evolve, it is always great to see presenters opting for photography over heavy text usage or the dreaded bullet point. In that same breath, it's also a shame to see so many presentations littered with poorly chosen stock photos.
It doesn't have to be this way.
Here are a few tips (and free stock photo sites!) to make sure you are choosing the right stock photography.
1. Choose Text-Friendly Photos
You never want your typography to look like it was just slapped on the slide. Instead, try to pick stock photos that will provide you with adequate space (ideally, to the left or right) to place your text appropriately. An easy way to throw money away is by buying photos that leave you with no room for text placement. Don't get tempted with those purchases.
Good: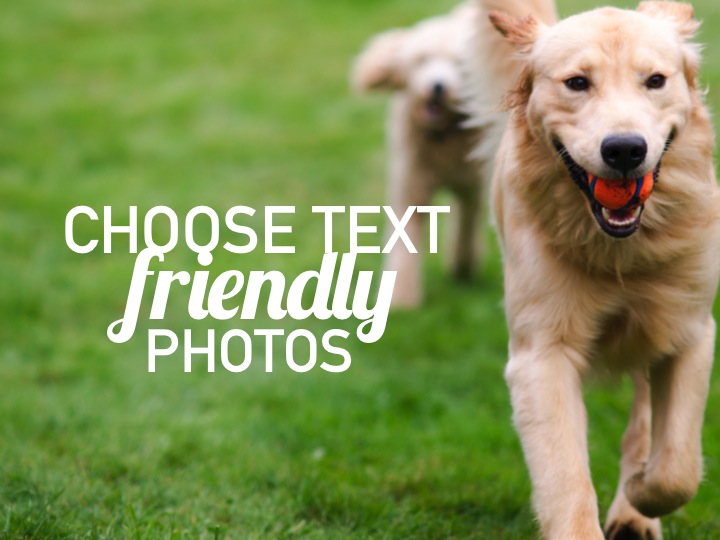 Bad:
2. Natural Always Wins
We have all seen our share of cheesy and generic stock photos like the corporate handshake or the woman getting inspired in the middle of a field. When choosing stock photos, it is always going to be in your best interest to select images that don't look fake, posed or unnatural. The more authentic, the better.
Good:
Bad:
3. Pick for Your Audience
If you are going to be speaking to an audience of corporate folks, then choose stock photos that are corporate. If you represent a hip and cool agency, then choose photos that are hip and cool. Now, be mindful: I don't want you to "sell out." Be proud of the brand you represent and let your photos reflect your own authentic voice. However, when in doubt, follow the advice above.
Good Business:
Good Hip:
4. Pursue Relevance
As I write this blog post, a lot of stock photography is outdated. You don't want to be talking about your mobile marketing strategy while showing a picture of a flip phone. Also, make sure to pay attention to items like fashion and technology because they are two of the biggest indicators of a dated or up-to-date stock photo.
Good:
Bad:
So, are you ready to start choosing some new stock photography? Here's a list of some free stock photo sites:
Free Sites
Inexpensive Options
High Quality Options
Start exploring -- and don't forget to have fun with it!
Author Bio
Scott Schwertly is the author of How to Be a Presentation God and CEO of Ethos3, a Nashville, TN-based presentation boutique providing professional presentation design and training for national and international clients ranging from Fortune 500 companies to branded individuals like Guy Kawasaki. If Scott is not working with his team building presentations, you will find him in the pool, on the bike, or on a long run. Scott lives in Nashville, TN with his wife and three dogs. He has a B.A. and M.B.A. from Harding University. Find Scott on Google+.