How to Stand Out From the Crowd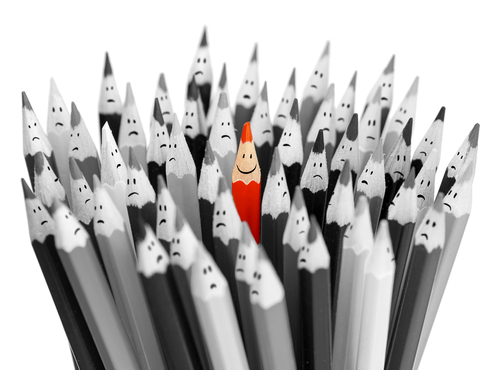 I'm always amazed by how many presenters wander about when on stage. They drift from topic to topic, stumble from main idea to main idea, and often a lack a clear call to action.
Why?
Many presenters underestimate (or don't realize the importance of) what I like to call their "Only." What is this exactly? It's the "Only" thing you do better than the competition. It's the magical and revolutionary thing about your product or service that makes you different, better and extraordinary.
Here are 3 suggestions to get you headed in the right direction to finding your "Only:"
1. Know Your Why
I'm a big fan of Simon Sinek. In his book, Start with Why: How Great Leaders Inspire Others to Take Action, he discusses the importance of starting with your "why" rather than your "what." Here's an example about Apple taken from his book.
SELLING THE "WHAT" (DON'T DO THIS)
We make great computers.
They're beautifully designed, simple to use and user-friendly.
Wanna buy one?
SELLING THE WHY? (DO THIS)
Everything we do, we believe in challenging the status quo. We believe in thinking differently. The way we challenge the status quo is by making our products beautifully designed, simple to use and user-friendly.
And we happen to make great computers.
See the difference? Start with the Why, and you will find your "Only."
2. Enhance Your Focus
I have a friend who once owned a charcoal company. His challenge was to make his lump of coal different than Charcoal Company B and C. After some careful thinking, he determined that the phrase "Fun & Flavor" was just the type of messaging he needed to separate his brand from the competition. That was his "Only." It was clear. It was memorable. It was focused.
3. Acknowledge It's a Marathon
Discovering your "Only" is not an overnight activity. Now, it may hit you like a ton of bricks in the shower one day, but this is a process that will take some time. Don't rush it. Be patient. Sleep on it. The "Only" is extremely powerful but it will require some baking.
So, before you press "Go," take a step back. Once you find your "Only," you can start the process of building, designing and delivering a presentation that will truly change the world.
Author Bio
Scott Schwertly is the author of How to Be a Presentation God and CEO of Ethos3, a Nashville, TN-based presentation boutique providing professional presentation design and training for national and international clients ranging from Fortune 500 companies to branded individuals like Guy Kawasaki. If Scott is not working with his team building presentations, you will find him in the pool, on the bike, or on a long run. Scott lives in Nashville, TN with his wife and three dogs. He has a B.A. and M.B.A. from Harding University. Find Scott on Google+.