As MacWorld 2014 Kicks Off, A Look Back at Apple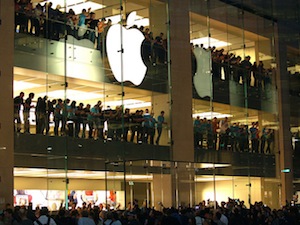 Thousands of Apple enthusiasts have gathered in San Francisco for the annual Macworld/iWorld extravaganza this weekend. New products, accessories and apps are put on display, while industry experts debate all things Apple. What's on most people's minds: What's next for the tech giant?
Your guess is probably as good as ours. But perhaps a look back at the storied brand will help give us a clue.
The Best of MacWorld 2013
How will this year's MacWorld compare to last year? How much has changed in the world of Apple? Here are highlights from the last expo -- from the "Playing Steve and Woz" session with actors Josh Gad and Ashton Kutcher to all the swag that was handed out.
Apple Through the Years
For all the innovative products and services that Apple has created over the years, we can't forget the transformation of one particular Apple product -- its website. Take a look back at 15 years worth of Apple website updates, from 1997 to 2012.
Comprehensive Guide to APPL
This deck coves everything you need to know about Apple, including its history, a company profile and even a SWOT analysis.

Apple Sydney Open by Marc Lehmann is licensed under a Creative Commons Attribution 4.0 International License.
Based on a work at http://www.flickr.com/photos/marclehmann/2593409263/.